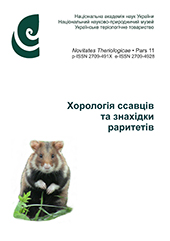 Novitates Theriologicae (bulletin of theriological news) Ч is a series of publications of the Ukrainian Theriological Society of the National Academy of Sciences of Ukraine, launched in 2000 on the occasion of the beginning of the new millennium and the organisation and holding of a series of new conferences, as well as the start of a number of new forms of the society's activities (for these groups, see the general page of this web-site). All issues of this series are thematic, and after the translation of "Proceedings of the Theriological School" into the format of the journal (starting with volume 10), the thematic nature of our publications is left for the bulletin NT.
Bulletin NT is published without strict periodicity, usually at the initiative of the organisers of current schools-seminars or the ideas of editors on thematic issues. Therefore, some issues are conference materials or collections of abstracts, but some other issues are full thematic collections of scientific papers (for example, issue 6 "Migration Status of Bats in Ukraine", published in 2001) or issue 9 "Mammal Research in the Steppe Regions" (2015).
In the future, it is planned to continue issues in the format of thematic information collections, such as "Researchers of theriofauna of Ukraine", "Areas of mammals of Ukraine", "Vermacular and scientific names of mammals", "Alien species of mammals in aboriginal biota", "Mammals in diet of the birds of prey" etc.
Х profile of the issue in Google Scholar (297 citations on 22.10.2020) >>>
Х page about Bulletin in Wikipedia (Ukrainian) (started on 5.10.2020) >>>
Х on 22/10/2020, an application for ISSN online and print was submitted.
Editorial board
Editor-in-Chief: Igor Zagorodniuk
Associate editor: Zoltan Barkaszi
Editor board: Zoltan Barkaszi, Igor Dykyy, Igor Emelyanov, Igor Evstafiev, Serhiy Gaschak, Pavlo Khoetsky, Maryna Korobchenko, Oleksandr Kyseliuk, Igor Merzlikin, Elvira Rizun, Zoya Selyunina, Volodymyr Tyschenko, Anatoliy Volokh, Igor Zagorodniuk, Serhiy Zhyla.
Archive of Novitates Theriologicae issues
For each issues listed below, all linked volume pages include summaries and contents in original languages of publications, mainly in Ukrainian.
pars 11 Х Chorology of mammals and records of rarities Ч issue 11 in the series Novitates Theriologicae, devoted to changes in fauna, mammal areas and records of rare species; Kyiv, 2020.
Contents with pdf of all articles (in progress) >>>
pars 10 Х Mammal Census: Data Collection and Processing Ч issue 10 in the series Novitates Theriologicae, with collection of scientific articles on the methods of field research of mammals, based on materials of 2-22 therioschools; Kyiv, 2017. 226 pp.
Contents with pdf of all articles >>>
pars 9 Х Mammal Research in the Steppe Regions Ч issue 9 in the series Novitates Theriologicae, with pre-war materials on research in the steppe regions of Ukraine accumulated in the society's archives; Kyiv, 2015. 200 pp.
Contents with pdf of all articles >>>
pars 8 Х Theriofauna of Protected Areas and Mammal Protection Ч issue 8 in the series Novitates Theriologicae, with proceedings of 19 Theriological School (Black Sea Biosphere Reserve, September 2012); Hola Prystan, 2012. 76 pp.
Contents with pdf of all articles >>>
pars 7 Х Methods of Mammal Fauna Census Ч issue 7 in the series Novitates Theriologicae, with proceedings of 9 Theriological School (Roztochchia Nature Reserve, October 2002); Luhansk, 2007. 46 pp.
Contents with pdf of all articles >>>
pars 6 Х Migration Status of Bats in Ukraine Ч issue 6 in the series Novitates Theriologicae, with of same named research project. Kyiv, Ukrainian Theriological Society, 2001. 172 pp.
Contents with pdf of all articles >>>
pars 5 Х Mammals of Open Areas Ч issue 5 in the series Novitates Theriologicae, with proceedings of 8 Theriological School (Luhansk Nature Reserve, May 2001); Kyiv, Luhansk, 2005. 96 pp.
Contents with pdf of all articles >>>
pars 4 Х Large Carnivores in Ukraine and Adjacent Countries Ч issue 4 in the series Novitates Theriologicae, with proceedings of 7 Theriological School (Polissia Nature Reserve, December 2001); Kyiv, 2001. 72 pp.
Contents with pdf of all articles >>>
pars 3 Х Bats of the Carpathian Region Ч issue 3 in the series Novitates Theriologicae, with proceedings of III International Conference "Bats of Carpathians", Kyiv, 2003. 96 pp. (a beta version with abstracts was released in 2000).
Contents with pdf of all articles >>>
pars 2 Х The Use of Ultrasonic Detectors in Bat Research Ч Issue 2 in the series Novitates Theriologicae, with proceedings of the bat-detector workshop (Biostation Yaduty, May 2000); Kyiv, 2000. 58 pp.
Full pdf-version (1,4 mb) >>>
pars 1 Х Theriology in Ukraine 2000: Step into the New Age Ч issue 1 in the series Novitates Theriologicae, with digest of main items in current theriological life and prospects on nearest conferences; Kyiv, 2000. 14 pp.
Full pdf-version (528 kb) >>>
---