menu

about Novitates

issue contents

editorial board

author guides
issues



pars 12 (2021)


pars 11 (2020)


pars 10 (2017)


pars 9 (2015)


pars 8 (2012)


pars 7 (2007)


pars 6 (2001)


pars 5 (2005)


pars 4 (2001)


pars 3 (2003)


pars 2 (2000)


pars 1 (2000)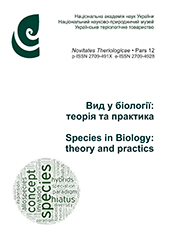 bibliography of issue

Species in Biology: Theory and Practice. Collection of articles. Compiled and edited by I. Zagorodniuk. Ukrainian Theriological Society and National Museum of Natural History, NAS of Ukraine, Kyiv, 2021. 396 pp. (Novitates Theriologicae; Pars 12).
ISSN 2709-4928 (online)
ISSN 2709-491X (print)
doi: http://doi.org/10.53452/nt12
Summary. The volume is devoted to seminar proceedings initiated by the Ukrainian Theriological Society along with the National Museum of Natural History titled "Species in Biology." The issue includes publications presenting original contributions and reviews by Ukrainian and foreign scientists on the topic of "species", from its purely eidological interpretations to use in practice in various fields of biology. The collection contains 35 works, including 12 articles in the field of theriology or in general issues prepared by theriologists.
Licence. Issue is freely available under CC BY-SA 4.0 license.
Full version of issue (pdf 7.7 mb) >>>
Titul page and contents (pdf 0,4 mb) >>>
Ukrainian version of the web-page >>>
---
| | | |
| --- | --- | --- |
| Introduction | | |
| | | |
| Editor's foreword [ua, en] | | |
| | | |
| Chapter 1. General issues of eidology | | |
| | | |
| Artemieva, E. Sibling species as a result of microevolution (a case study of Lepidoptera) [ru] | | |
| Hordovskyi, A. The philosophy of evolution [ru] | | |
| Grytsenko, V. Species criteria in palaeontology and ichnology and the possibilities of using ichnofossils in geology [ua] | | |
| Zagorodniuk, I. Emergent features of species: existence between populations and communities [ua] | | |
| Mezhzherin, S. V. The genetic species concept and its versatility [ru] | | |
| Pavlinov, I. Ya. Conceptualization of the species problem [en] | | |
| Protasov, A. A. Species from the viewpoint of biocoenology [ru] | | |
| Rekovets, L., L. Kuzmenko. Species as a system within a system [ua] | | |
| | | |
| Chapter 2. Evolution and speciation | | |
| | | |
| Artemieva, E. On the processes of sympatric speciation in the group of "yellow" wagtails in the Middle Volga region [ru] | | |
| Volokh, A. Hybridization in the genus Cervus [ua] | | |
| Dykan, N. Some theoretical aspects of the systematic study of fossil ostracods (Arthropoda, Crustacea, Ostracoda) in the context of species problems in palaeontology [ua] | | |
| Dotsenko, I. On the position of parthenogenetic vertebrates in the evolutionary flow and the applicability of species concept to them [ru] | | |
| Evstafiev, I., I. Zagorodniuk. Zoonoses as factor of evolution, population dynamics, and speciation [ua] | | |
| Zinenko, O. The speciation continuum and species relations between populations: in search of agreement between the theory and practice of systematics [ua] | | |
| Popova, L., L. Rekovets. Ecological and geographical criteria of species in Quaternary mammals on the example of ground squirrels of the subgenus Colobotis (Sciuridae, Rodentia) [ua] | | |
| | | |
| Chapter 3. Specifics of groups (botany, microbiology) | | |
| | | |
| Yena, A. V. From species to cultivar and backwards [ru] | | |
| Melnyk, V. On the species independence of Carlina cirsioides Klokov (Asteraceae) [ua] | | |
| Paliy, V., Grytsenko, V., Mosyakin, S. Are Nemiana Palij and Beltanelloides Sokolov synonyms or different genera? [ua] | | |
| Pallah, O., N. Boyko. Concepts of species and strain in relation to microorganisms under formation of biofilms as superorganismic systems [ua] | | |
| Tokhtar, V. K. Elusive species criteria and paradigms of botany [ru] | | |
| Shynder, O. The taxonomic complex Centaurea stoebe s. l. (Asteraceae) in the flora of Ukraine [ua] | | |
| | | |
| Chapter 4. Specifics of groups (zoology) | | |
| | | |
| Glotov, S. V. Morphological variation of the spermatheca of Mocyta fungi (Insecta: Staphylinidae) [ua] | | |
| Dernov, V. Geographical distribution and species diagnostics of the Carboniferous and Permian genus Gzheloceras (Cephalopoda: Nautiloidea) [ua] | | |
| Morhun, H., M. O. Son, S. Utevsky. Unique issues of the species concept in molluscs of the genus Corbicula: a mismatch of mitochondrial and nuclear genomes [ua] | | |
| Kovalchuk, O. Issues of species diagnostics of fossil fishes [ua] | | |
| Savarin, A. A. On the craniological differentiation of Crocidura leucodon and C. suaveolens of the Belorussian fauna species: occipital sutures [ru] | | |
| Sudarikova, E. On the problem of craniological differentiation in two species of the green monkeys: Chlorocebus pygerythrus and C. aethiops (Cercopithecidae, Primates) [ru] | | |
| Kharchuk, S. A review of the history of taxonomy and species criteria in the family Felidae [ua] | | |
| | | |
| Chapter 5. Survey, monitoring, and conservation | | |
| | | |
| Kanarsky, Y. Recent changes of entomofaunal diversity in meadow-steppe habitats of northwest Podillia (on example of Lepidoptera) [ua] | | |
| Ocheretna, K. Changes of knowledge on the fauna volume: species discovery curve in case of silken-fungus beetles of the Carpathians [ua] | | |
| Timoshenkov, V. What is needed to preserve at least one animal species in a particular protected area? [ua] | | |
| Fesenko, H. V. Importance of idea about species in forming the common zoological nomenclature [ua] | | |
| Shiyan, N. M. Type collections of plants and fungi in Ukraine: realities and prospects [ua] | | |
| | | |
| Chapter 6. Personalities and chronicles | | |
| | | |
| Artemieva, E. Modern evolutionism and the views of A. A. Lyubishchev on the problem of species [ru] | | |
| Zagorodniuk, I. Theodosius Dobrzhansky's scientific work in Kyiv: key milestones and colleagues (a story of one photograph) [ua] | | |
| Information about the volume [ua] | | |
---